A healthy batch of safety
Davert GmbH specialises in organic foods and stands for the continuous further development of processing methods and careful monitoring of these products, from cultivation to packaging. The finished, high quality organic products like rice, legumes and cereal products like sugar, dried fruit, nuts, oilseeds and sprouting seeds must be protected from dust and pests during storage and then transported without damage to drug and health food stores.

Packaging System for Palletised Organic Products
Packaging systems for organic products
Davert GmbH is a trading and manufacturing company for high-quality organic products. The company with its 150 employees is based in Ascheberg, in the southern Münster region, right next to the eponymous nature reserve Davert. With a guarantee of origin, Davert are committed to fair trade and long-term business relationships world-wide. For its customers, Davert follows a multi-channel strategy: the merchandise is sold via their own online shop and in selected drugstores and health food retailers.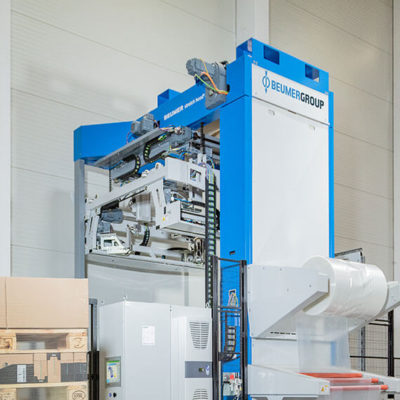 We provided the BEUMER stretch hood A for this task. It covers the mixed pallets of bags, cartons and buckets with a highly elastic stretch film, protecting them against external influences, keeping the merchandise secured during transport, even through sudden braking. Healthy and sustainable nutrition plays an increasingly important role to consumers. Not only because it tastes better and is good for you, but also because consumers are taking a more critical look and want transparency when it comes to the production and processing of their food. Organic supermarkets and health food stores respond to these demands.
Cleanliness and environmental considerations has the highest priority
Davert are ensuring the highest degree of cleanliness to meet a strict quality standards. Before being shipped out, the legumes, rice etc. have undergone special quality controls. The employees examine the incoming raw products and set up the required cleaning steps.
Economical engines and a lower demand in compressed air optimise the energy balance. In order to save resources and produce minimum waste, the company opted for this type of film wrapping. The palletised goods are also clearly visible through the smooth surface of the transparent, highly flexible film. The wrapping protects the merchandise against atmospheric influences and humidity, and ensures an aesthetic appearance on the shop floors. The pallet base remains unwrapped, so that the forks of the fork-lift truck won't damage the film.
Easily operated
We have introduced our Human Machine Interface (HMI). This newly-developed operator panel with an optimised user interface and graphical navigation for operating the system offers an even more ergonomic workflow to the user. This easily understandable and intuitive interaction concept helps to define efficient working sequences. The soft-touch panel uses pictograms to guide the user through the menu of the Siemens SIMATIC S7 machine control. The panel also gives the operator access to all required training programs and content.
Packaging for optimum final results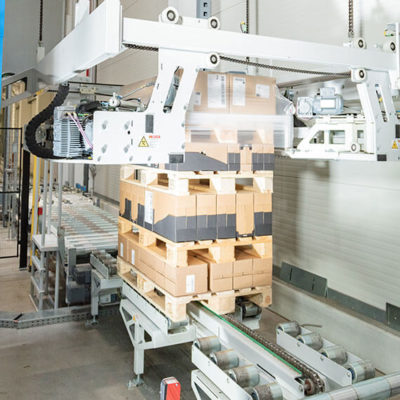 The BEUMER stretch hood® A uses an improved mode of operation to package palletised load units quickly, safely and sustainably in water-proof film hoods. This provides reliable protection for the goods against all environmental stress ensuring excellent load stability. The palletised goods are clearly visible due to the smooth surface of the transparent film.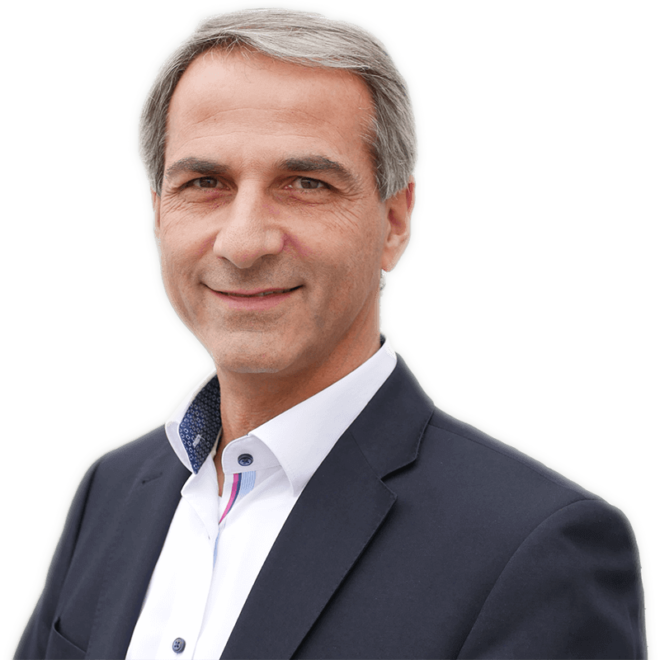 Do you have any questions?
Do you have any questions?
Your Contact Person
Jörg Spiekermann
Head of Sales Division Consumer Goods