Modernisation
Modernisations is a dedicated business area within BEUMER Group, ensuring that your system is enhanced with the latest technologies and products and upgraded to meet your current and future needs. Consequently, your business has the leading edge at all times.

Whether you require modernisation of equipment supplied by us or a third-party, we will support you. Our team of highly-skilled engineers and project managers can recommend, specify and implement upgrades and enhancements. Updated systems enable continuous support of software and hardware and lead to a prolonged system lifetime.
Upgrades and enhancements cover:
Hardware & Software upgrades

New add-on solutions

Process improvements & new functions

System performance reviewing

System engineering

Project execution
Features
Enhanced grade of automation

Extensions and new system functionalities

System upgrade and refurbishment
Our regional service manager will be your partner to advise about new products, enhancements and upgrades supported by BEUMER Group specialists. Furthermore, we will review the performance of your system in close co-operation with you to make sure that it meets your future needs.
System performance reviewing
By carefully considering your specific needs, we review your system performance to identify any gaps or bottlenecks and improve operational production efficiency. We ensure that systems live up to current requirements in terms of capacity, throughput and administrative demands. Your systems will be checked with regards to the latest standards of mechanical and electrical parts. Our specific activities also include advice from our skilled engineers on upgrade ideas and solutions, tailoring them to fit your system requirements.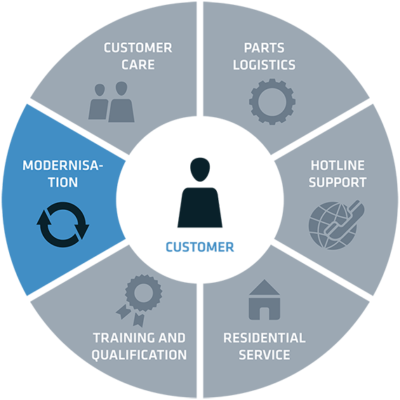 Based on initial feasibility studies, in co-operation with you, we create a solution which complies with your changing demands in terms of productivity, cost efficiency and flexibility. We suggest possible upgrades to your system, based on our latest developments and experience: No matter of the age of your system, our experienced engineers will provide the right solution for your needs.
Project execution
Our dedicated project managers in the field of modernisations have knowledge and experience in working with operational systems. Working with your operational staff, we ensure that the enhancement is implemented without disturbing your daily production. We achieve this through meticulous planning, risk management, thorough testing and close co-operation with all parties. This means we will hand your enhanced system back to you for immediate start and ready for the future.
Project execution is always performed in accordance with our high standards for project management. We rely on the well-known Stage Gate® Model for project planning and execution, and we utilize both on- and off-site coordination. Risk management is one of our top priorities as we manage production and suppliers and coordinate the installation and commissioning phases. Finally, we perform acceptance testing based on your requirements, and continue to update documentation throughout the lifecycle of your equipment.
Optimal utilisation of your system

Performance according to latest demands and standards
Global upgrades and automations for Mining Industry
We carry out performance upgrades, modernizations and automations of opencast mining plants and machines, handling systems, processing technology, and stockyard facilities all over the world.
Our range of services in the area of reconstruction and modification performed by qualified and experienced employees includes engineering, manufacturing and delivery, as well as assembly and commissioning using our own production and assembly resources under guarantee of meeting the international safety and quality standards.

We achieve performance improvements by increasing the conveying or production volumes, extending the service life, upgrading assemblies and components.
We optimize transfer points and achieve higher efficiency of the equipment, e.g., by saving energy and reducing operating and maintenance costs.
In the course of modernization or retrofitting work, we ...
develop and implement new drive concepts,

increase efficiency by adapting to changing operating conditions,

ensure compliance with statutory requirements (e.g. emission reduction, occupational safety),

modify existing designs and

carry out refurbishment or new fabrication of machine parts and assemblies.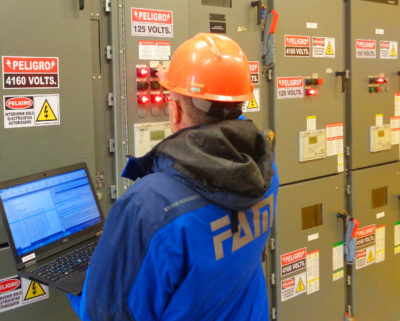 Automation
Another service in our scope is automation. In this area, we offer:
upgrading of control systems,
optimization of energy management,
installation of new electrical and control systems using state-of-the-art technology,
programming and installation of advanced control systems for automatic operation,
as well as set-up of remote servicing systems for control software.
Furthermore, we have extensive experience in dismantling and/or relocating of machines and systems.