Hotline Support
Hotline Support is available 24 hours a day, 365 days a year and ensures immediate access to expert assistance for hardware and software issues.

With dedicated phone numbers the BEUMER Group hotline are always ready to take customer support calls. All calls are answered by one of our specially trained hotline engineers who have expert experience in electrical, mechanical and software issues. All our Hotline engineers have a minimum of 4 years of field experience with commissioning BEUMER Group systems.
Our hotline support programme includes:
Hotline Support

Server Inspection

Connection Monitoring/CACS

Performance Monitoring

Remote Optimising

Virus Protection

OS Patching

VPN Remote Access

Profibus Monitoring
Features
Access to BEUMER Group Hotlines

Support 24 hours a day, 365 days a year

Online overview of open Hotline cases

Online access to Hotline reports
The Hotline engineer will remotely connect with the customer system, using the Remote Access System. BEUMER Group Hotline has direct and immediate access to the customer's source code that is needed in order to proceed with the troubleshooting process. Hotline contract customers have access to their own personal site where they can see an overview of Hotline cases and reports. Hotline reports are usually available within 24 hours after the support case has been closed. Hotline Support ensures easy access to immediate hardware and software expert assistance. All calls are handled by Hotline engineers, all of whom are system experts. All Hotline engineers are Key Account Engineers and they have expert knowledge about the specific customer systems.
Our hotline support functions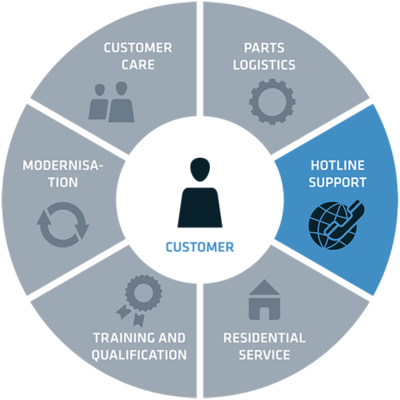 Our Hotline Support is located in Aarhus, Denmark and Beckum, Germany and manages more than 500 Hotline contracts. Its service includes more than 1,100 industrial products within the four core areas conveying and loading, palletising and packaging, sortation and distribution and resolves more than 5,000 cases every year. Furthermore it is always available 24 hours a day, every day of the year.
Customer calls are directly managed by experienced Hotline engineers

Remote access for immediate logon to customer systems for troubleshooting

Personalised internet portal dedicated to support

Online subscription for specific information about Hotline cases

Hotline reports including recommendations
We are there for you!
In case you need urgent support, feel free to call our Customer Support Hotline: