Bulk Material Handling: Conveyors & Equipment
The construction of conveyor technology was our founding motivation almost 90 years ago. Ores, salts, sand and stones race along on our kilometre-long conveyor systems here in Germany but also across the globe. Raw materials extracted in the mine travel long distances while being processed. The crushing of quartz or the homogenization of earth very often takes place in factories that are far away. Our conveyor systems ensure the safe transport of your bulk materials from the beginning of the value chain to the end.

Plant construction from the raw material extraction to loading
From the moment the first stone breaks underground, reliable conveyor systems support the handling of bulk goods. As a manufacturer and system partner, the BEUMER Group designs both machines (e.g. pendulum bucket elevators and belt conveyors) and complete solutions for the conveying of raw materials on their way to be processed further. In the following section we will present our systems and products for bulk material handling in finer detail.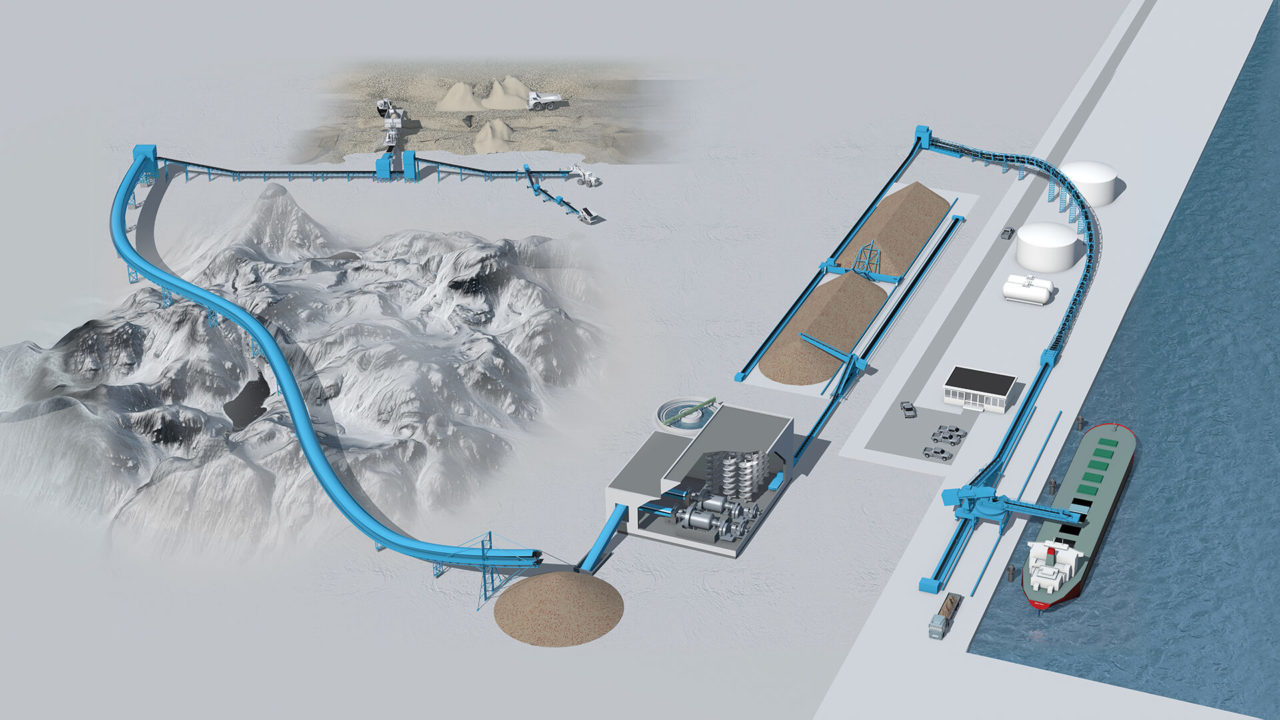 Overland-Conveyor – belt conveyor for long distances
On overland belt conveyors, over winding routes of up to 25 kilometres, bulk materials make their way through impassable terrain. At a speed of 7 meters per second, which corresponds to brisk cycling, the rocks hurtle along the conveyor belts to their next destination. The conveyor systems are also able to move 15,000 tons of bulk material per hour. That comes close to the weight of about 3,000 elephants. In addition, tight horizontal radii of up to 300 meters are possible with the continuous conveyor. Thanks to our many years of experience and data from existing conveyor systems and internal research and development, we are constantly increasing our performance of bulk material handling.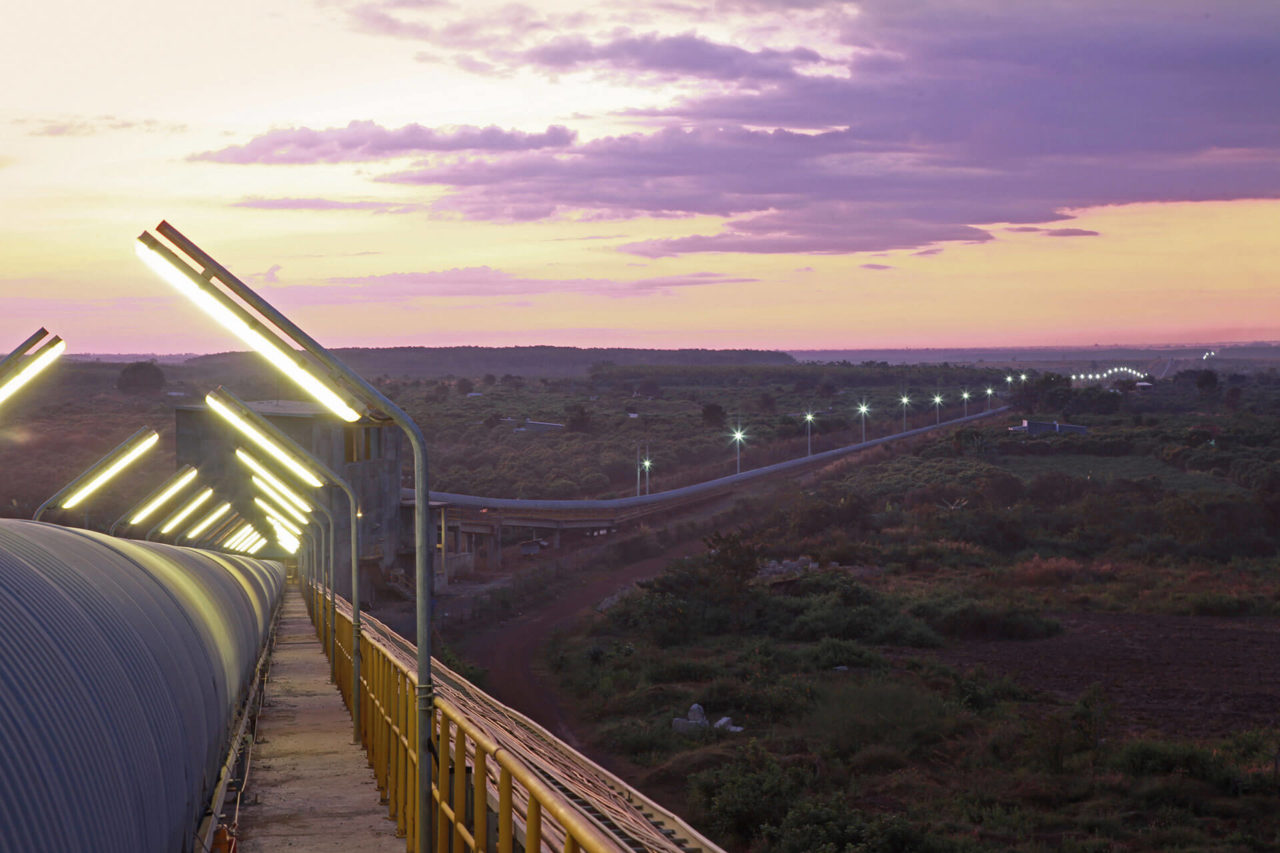 Open troughed belt conveyors transport bulk goods, e.g. for cement manufacture, quickly across large distances and rough terrain.

Details
Tubular belt conveyor for closed overland transport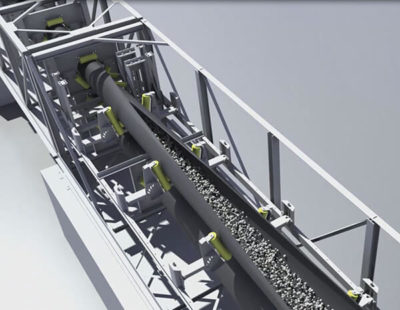 Tubular belt conveyors protect the bulk goods from environmental influences. Thanks to the closed conveyor system, fine-grained raw materials can be transported without creating dust. An axial distancing of up to 10 kilometres is possible and the conveying capacity is 10 to 6,000 tons per hour. Depending on the local requirements, the conveying solution implements tight curve radii of up to 100 degrees and gradient angles of up to 30 degrees. In Callo (Peru), our tubular belt conveyor transports copper concentrate.
A pipe conveyor is recommended for sensitive products such as granulate or raw materials, which have to be protected from the elements.

Details
Conveying bulk goods over short and medium distances
Of course, we also design conveyor systems for medium and short distances. Mobile, i.e. movable belt conveyors, can adapt to the transport distance requirements in quarries at any time by adding or removing them. They are also called jump conveyors or grasshopper conveyors. Other bulk material conveyors are heap and discharge belts and discharge conveyors. In the USA, for example, our company has installed a radial spreader for plaster of paris. We develop individual complete solutions for your bulk goods. We tailor your solution from material reception to loading.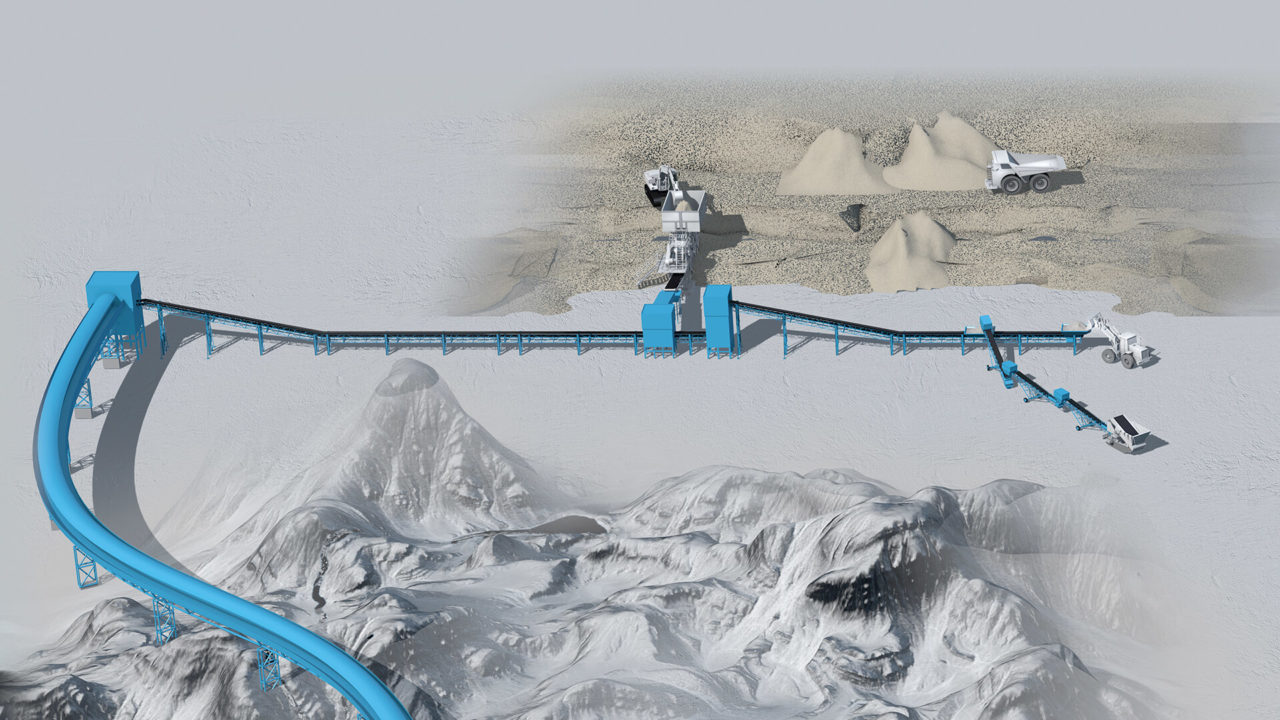 Bulk goods storage indoors and outdoors
Round, long or radial warehouses store bulk goods temporarily. Rail-bound stacking devices support the storing of the raw materials. The storage technology is available in different versions with liftable jibs, rotatable boom or twin boom. Back loaders expand our range and are available in all possible designs (bridge, portal, semi-portal or side scraper) as well as bucket wheel back loader. Combined devices for stacking and unstacking such as a coal circular storage facility in Slovakia complete our portfolio.
A blending bed is used for storage and homogenisation of raw materials such as limestone, clay, coal or mixtures of other bulk materials.

Details
Bulk material handling technology for ship loading
Depending on the requirements, bulk goods can be loaded into vessels ranging from inland Barges up to the "Valemax" ship class. The ship loaders can be constructed with lift-able, pivot-able and telescopic booms or shuttle booms. So that they are suitable for both closed and open quayside galleries. For larger ships, a rail-mounted version of the loader is recommended so that a longer loading zone is covered. Fixed loaders are of course also possible. Depending on the quay and loading situation, we offer customer-specific designs and sizes.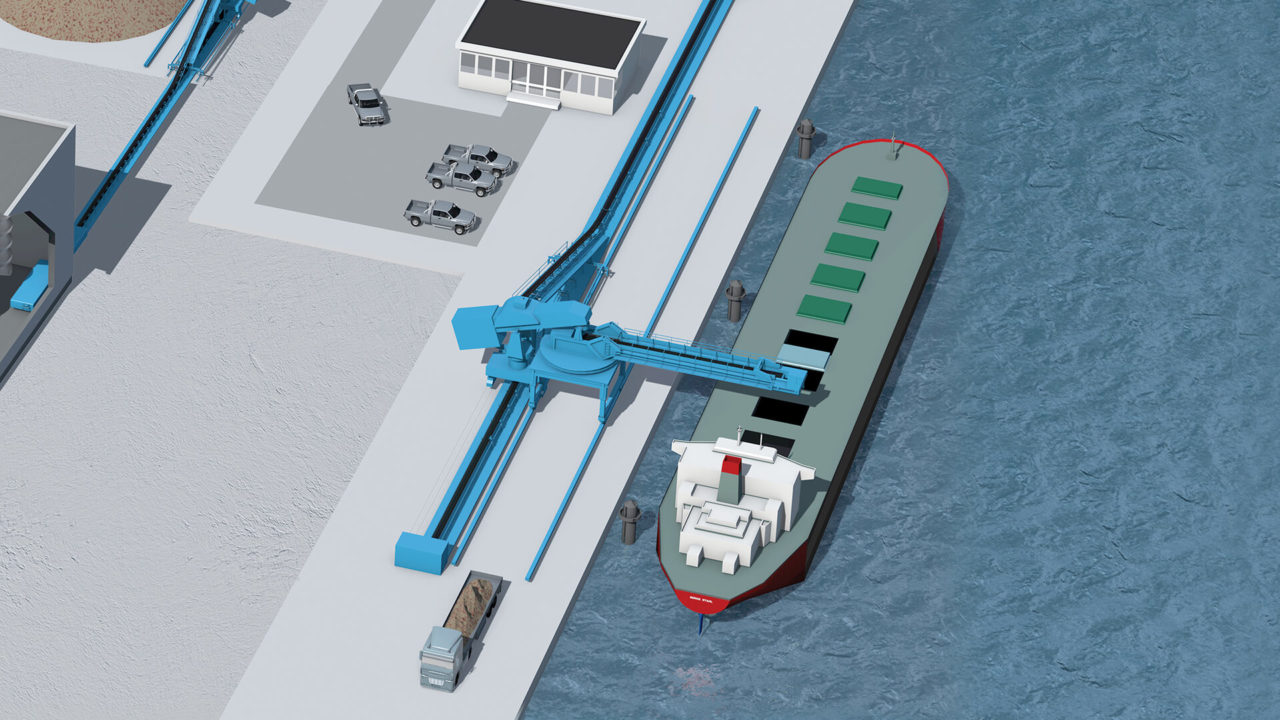 More conveying solutions
We have a broad product offering and build complete systems in addition to individual components. Together with you we will find the right solution for your unique requirements.
Conveying Technology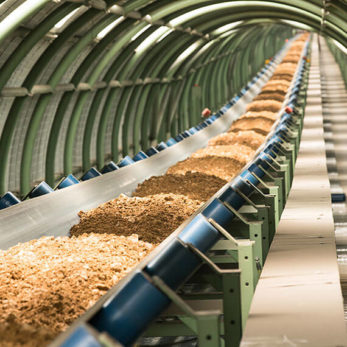 Loading Technology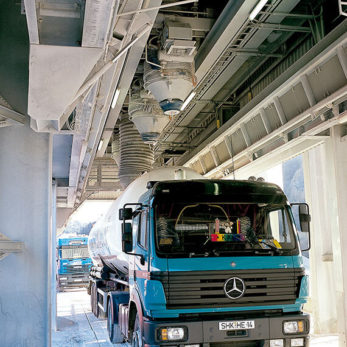 Minerals & Mining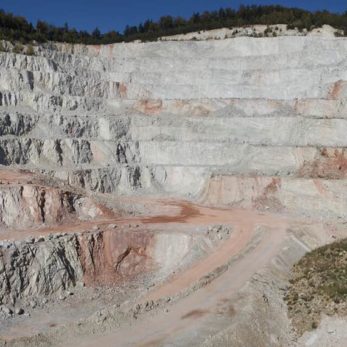 Railway and Train Loading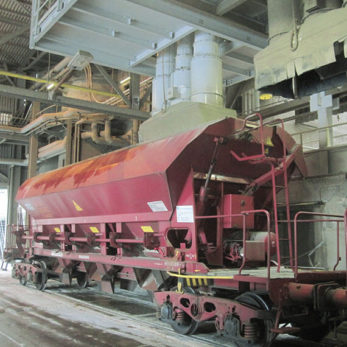 Bulk Loading Heads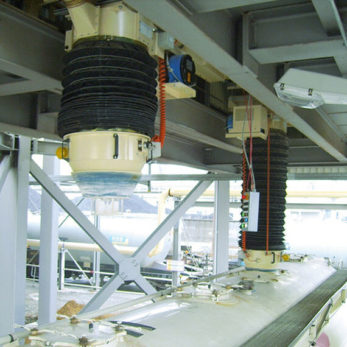 Bucket Elevators