Intralogistics – Beumer in Austria
Our office for intralogistics engineering in Schwechat near Vienna serves our customers in Austria. Our focus is on the planning, development, installation and maintenance of conveyor systems for warehousing and manufacturing logistics. Since our foundation as a BEUMER Maschinenfabrik in Germany in 1935, we have been designing systems to improve the flow of goods in the field of intralogistics. We produced our first conveyor systems for the cement and lime industry and the mining industry in the Ruhr area. The order book is now comprised of mostly international business – more than 85 % of orders from abroad. In order to offer our customers from the industrial sector, service providers and e-commerce the best possible support, subsidiaries have been established all over the world – as well as in Austria. Since the founding of our intralogistics company, we remain proudly a family owned and operated business.

Sustainable Conveyor Technology for Austria
Our range of products includes innovative conveyor and loading technology, palletising and packaging technology as well as automatic sorting and distribution systems (e.g. software solutions for warehouse automation and order picking) with high demands on quality and durability. In order to design innovative products for in-house logistics, we involve experts from all fields in the process. The joy of innovation comes from the continuing dialogue between sales, technology, research and development, which ensures long-term success. With monitored growth, energy-efficient machines, resource-saving systems and ergonomic solutions, we as a family business focus on sustainability. We have also established ourselves locally in order to offer first-class service for the installed conveyor systems and storage systems in Austria.
"We are looking for the long-term success and not for the short-term profit. "
Intralogistik "made different"
"Made different" is more than just a buzzword at the BEUMER Group. It's a corporate philosophy that lets us do what makes sense and not what's trendy right now. At the center of our philosophy, unlike many short-term profit oriented listed corporations, is the long-term perspective.
This approach forms the basis for our leadership in quality, sustainability and innovation. It is the driving force behind a corporate culture defined by motivation, trust and loyalty to and among employees. All of this is only possible because we have preserved ourselves over three generations: our independence.
Find out more about our unique approach here.

Customised Systems for Your Intralogistics
Are you a manufacturer, do you extract raw materials or run a distribution centre? We develop tailor-made machines, software and technologies for the seamless digitalisation and automation of your supply chain. These "Tailor Made Solutions" are intralogistics solutions precisely adapted to you and your industry. Our experienced specialists at BEUMER Group Austria conduct feasibility studies and develop concepts that are meticulously reviewed. We are a one-stop-shop for intralogistics solutions: we manage the entire project from engineering, design, assembly and commissioning. Our customer support completes a successful cooperation – both now and in the future.
Productivity Boost with Prototypes and Proven Concepts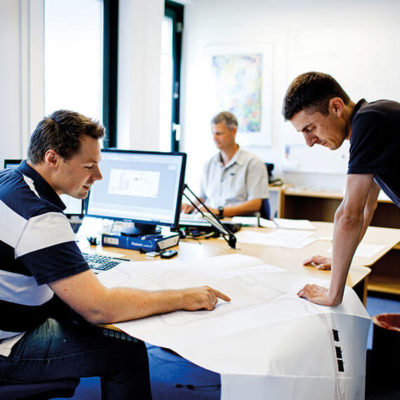 Customised systems require more effort than standard solutions, especially during the proposal and concept phase. But with detailed process analyses and simulations of the material flow, we can optimise your productivity to the highest degree. In these instances it is common for us to develop individual solutions in the form of prototypes, in order to test the efficient transport of your products.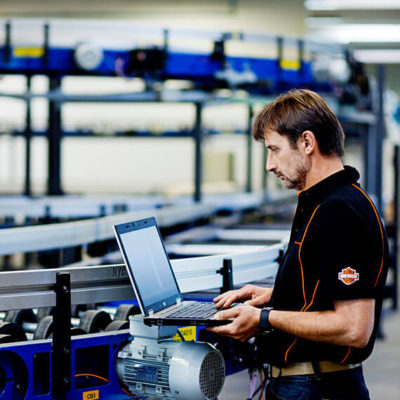 After getting to know and understand your organisational structure and warehouse logistics (e.g. storage technology), we develop a system design that fits seamlessly into your existing intralogistics. Whether goods receiving, warehouse management or order picking – our experts analyse all areas of your logistics. As soon as the new system goes into operation, extensive technical load tests follow. Only when we are absolutely satisfied do we hand over a reliable and robust system to you.
No vacancy matching your search?
You are welcome to send us an unsolicited application.

Please activate our job alert!
You will be notified as we publish a suitable vacancy.