Students and Graduates
Ambitious students and graduates can successfully bring theory to life in our company. Regardless of whether this is as part of our International Graduate Program or one of our many internship, we support your journey.

SHAPE YOUR FUTURE WITH US!
Whether you are a student or a graduate, we have challenging projects that provide opportunities for you to showcase your skills and deepen your knowledge.
By joining us as an intern, or writing a final thesis with us, you will gain valuable experience whilst making connections and developing your professional network.
University graduates also have the option to join our International Graduate Program. This program is customized to your specific requirements, and a mentor will guide you through the evolving professional landscape of the future.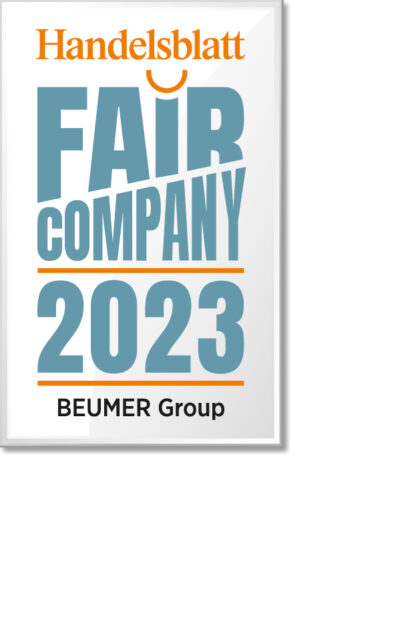 We are proud to support the Fair Company initiative, which helps students gain more equitable internship, and is Germany's largest and best-known employer initiative for young professionals and students.
At BEUMER Group, this commitment translates into engaging tasks, active participation in real-world projects, and immersion in the daily workings of our company — and of course, our interns also receive fair pay. Our goal is to prepare our interns for the professional world and provide them with realistic job experience.
We also have a strong track record of turning interns into permanent members of the team, so a successful internship could be the first steps in an exciting career at BEUMER Group.

Internship & Thesis
If you are looking at complement your theoretical knowledge with practical experience, then BEUMER Group provides the perfect environment for you to do just that. We welcome your involvement in various exciting tasks and projects, and invite you to take on additional responsibilities.
You can apply for internships in various departments, both on the business and technical sides — just let us know in your application your preferred business area and timeframe for completing your internship or thesis.
You can find all open positions here: Vacancies at BEUMER Group

International Graduate Program
Your entry into the global World of BEUMER Group.
Are you a recent graduate eager to kickstart your professional journey? Are you seeking a graduate program that is tailored to your individual needs? Does the idea of working internationally and enhancing both your professional skills and personal growth appeal to you?
Our 24-month International Graduate Program is designed to provide university graduates with a unique combination of personal development opportunities, including exciting overseas assignments. Throughout the program, our trainees are guided by experienced mentors dedicated to nurturing their individual growth. Our goal is to provide targeted support to ambitious graduates, helping them to reach their potential so that they can assume critical expert and managerial roles within BEUMER Group in the future. In doing so, our focus is the long-term retention of highly committed talent.
Our program emphasizes internationality, flexibility, and individuality, and enables us to provide each graduate with a tailored program. Here is what you can look forward to during your International Graduate Program at BEUMER Group:
You will gain a comprehensive understanding of what it means to work in a family-owned, global company
You will establish your own diverse and international network
Your hands-on approach will aid in broadening your knowledge, deepening your expertise, and improving your technical expertise
Your personal, social, and intercultural skills will continue to evolve
You will engage in a collaborative, inter-disciplinary project with fellow trainees