Students and graduates
Ambitious students and graduates can successfully bring dull theory to life in our company. Regardless of whether this is as part of our International Graduate Program or internship, we support you.

Shape your future with us!
Whether you're a student or a graduate, we have challenging projects that will give you a chance to demonstrate your capabilities.
By working as an intern or writing a final thesis in our company, you can gain valuable experience and make initial personal contacts.
University graduates can enroll in our International Graduate Program. In this program, which is matched to your individual needs, a mentor will introduce you to the working world of tomorrow.
Internship & Thesis
If you would like to augment your theoretical knowledge with some valuable practical experience, BEUMER Group is an excellent place to do it. We'll be glad to get you involved in interesting tasks and projects. Those who show dedication are welcome to take on responsibility!
You can be an intern in many of our departments – business or technical. With your application let us know in which area and in which period you would like to complete the internship or your thesis.
You can find all open positions here: Vacancies at BEUMER Group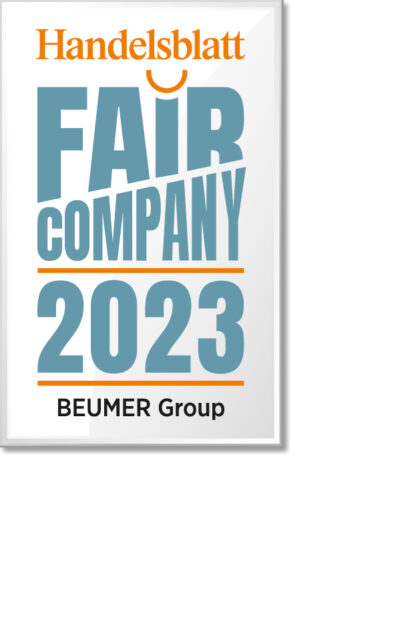 Fair Company
We support the Fair Company initiative to help students gain a fair internship.
The Fair Company initiative is Germany's largest and best-known employer initiative for young professionals and students.
For BEUMER this includes exciting and challenging tasks, participation in projects as well as participation in day-to-day business. Of course, our interns receive a fair remuneration. The aim is to prepare our trainees for working life and to give them a realistic job description.
A successful internship can be the first step for a start at the BEUMER Group!

International Graduate Program
Your entry into the global World of BEUMER Group.
You have successfully completed your studies and would like to start your professional career? You are interested in a graduate program that is tailored to your individual needs? You would like to work abroad? You would like to expand your professional skills and develop personally in an international environment?
The 24-month International Graduate Program at BEUMER Group offers university graduates a unique combination of further development including exciting stations abroad. During the entire time, our trainees have a competent mentor at their side who supports them in their individual further development. Our goal is to provide targeted support for ambitious graduates and to further develop their potential so that they can take over critical expert and management roles in BEUMER Group in the future. In doing so, our focus is the long-term retention of highly committed talents.
Our program with its focus on internationality, flexibility and individuality allows a tailored program design.
This is what you can look forward to during your International Graduate Program at BEUMER Group:
You will gain a broad understanding of what it means to work in a family-owned, global company
You will establish your own international and diverse network
You will use your hands-on mentality to continuously expand your knowledge, experience, and technical expertise in a challenging environment
You will further develop your personal, social, and intercultural skills
You work together with other trainees on an interdisciplinary trainee project