Batch sorting supports Witt-Gruppe's Vision 2020
Setting benchmarks for capacity, energy and control.

Batch sorting supports Witt-Gruppe's Vision 2020
The sortation system at Witt-Gruppe's distribution centre is key to the company's Vision 2020. This vision is to be the most profitable group of Europe-wide retailers in the 50-plus market and to achieve a 50 percent reduction in carbon dioxide emissions by 2020.
Supporting Witt-Gruppe's full catalogue and website, the sortation system ensures agile handling for items of different sizes and shapes. This includes a mix of clothes, household items and DVDs or CDs which weigh from a few grams up to seven kilogrammes. The items are routed for automatic foil sealing or can be packed in bags or boxes.
The sorters continue the efficiency of the picking process by receiving, processing and shipping the items in batches.
180000

items per day

2

-tier

installation of sorters

132

double-chutes in two layers

Achieving high capacity in a small footprint
To deliver the most productive use of space, the packing sorters are installed as a two-tier system and discharge into two layers of 132 double chutes. This provides a total of four layers with two compartments in each layer for holding an individual order batch. This allows each chute to hold eight orders. Three additional chutes ensure fast throughput for no-read, early and late items or for controlling EAN bar-codes.
In addition to the cross-belt packing sorters, the LS-4000E tilt-tray shipping sorter is equipped with 133 chutes with four different configurations. This allows the packing sorter to achieve efficient discharge of items with different sizes and packages.
The three energy-efficient sorters enable Witt-Gruppe to achieve an annual average capacity of 180,000 items per day in a tight, space-saving footprint. The system also includes a dedicated sorting and discharge area for boxes and another for bags.
Energy-efficient sortation in tight footprint

50% reduction in carbon dioxide emissions

Two-tier installation for high capacity

Agile sorting across a mix of items

Weights from a few grams to 7kg

Batch sortation supports picking process

Shipping labels attached at packing chutes

Packing sorters handle 24,000 items per hour
Batch sortation supports batch picking
The graphical supervisory control system is used to check that items arrive in the correct batch sequence to allow shipping labels to be attached at the chute. A dynamic colour-coded overview of batch progress is displayed on large screens by the chutes. The overview also monitors the status of the carrier and allows sort plans and sorting parameters to be set-up and optimised. The overview also allows blockages to be detected so the super­visor can radio the exact position to the floor.
As a vital element in Witt-Gruppe's Vision 2020, the distribution centre combines state-of-the-art sortation with an innovative layout to achieve high capacity with optimised space- and energy-efficiency.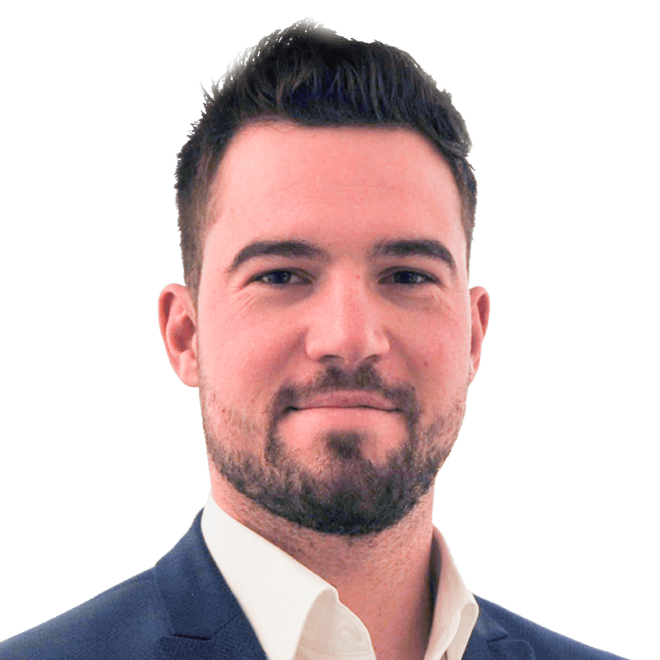 Do you have any questions?
Do you have any questions?
Your Contact Person
Jonas Tersteegen
Sales Manager