Culture & Benefits
With their skills, ideas and curiosity, our employees shape the success of our company. That is why we are committed to ensuring the best possible work environment, providing meaningful employee benefits, and nurturing our unique company culture.

WHAT BENEFITS DO WE OFFER?
To us, a fulfilling and rewarding job extends beyond simply paying people well. Our range of benefits is designed to prioritize well-being, promote career advancement, and is aimed at cultivating an environment where you can flourish and realise your full potential.
our Culture
Our distinctive company culture has evolved over many years and is rooted in the fact that BEUMER Group has remained a family-owned business for generations. This sense of security, and the trust it inspires, empowers you to approach your work with confidence and focus on making a meaningful impact.
We view our connection with our employees like a vast family bond. Despite operating on separate continents, our collective efforts remain directed at shared objectives. Our collaboration is based on a passion for what we do as well as respect for others, right across our diverse and global organization.
As well as our shared values and objectives, we understand the importance of fostering a sense of community throughout the company. Just as our family-owned heritage instills a sense of empowerment in our work, we also believe in nurturing personal connections beyond the workplace. This is why we actively organize various social activities that bring us together outside of our professional roles.
Teamwork Made different
Our employees distinguish themselves through their aptitude for delivering innovative solutions to our clients, all the while continually enhancing their skills and knowledge. We make this possible by providing a structure based on supportive teamwork, which is founded on mutual respect for each other, and a working culture rooted in trust.
As we pursue our shared objective of executing innovative and exceptional global projects, we are committed to providing stability and security for each team member.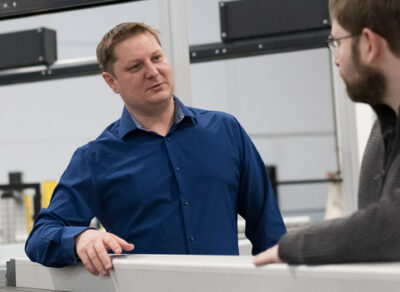 "I would describe the culture as friendly, open-minded, and supportive – made up of a lot of team players."
Slobodan Ratkovic
Senior Systems Manager, USA